Muntulu Bush Lodge

Hluhluwe iMfolozi Game Reserve, KwaZulu-Natal, South Africa
Self Catering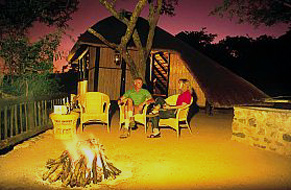 IMPORTANT NOTICE : Muntulu Bush Lodge is closed until future notice.
The Muntulu Bush Lodge in the Hluhluwe sector of the Hluhluwe iMfolozi Park in Zululand, KwaZulu-Natal and is a "sole-use" bush lodge, a complex of accommodation, dining, kitchen and recreational facilities, set on an elevated river bank . The lounge at Muntulu Bush Lodge looks down into the palm lined Hluhluwe River where a variety of animals, often including elephant and rhino, visit daily to quench their thirst. An open plan lounge and dining area adjoins the accommodation units, four two-bed reed under thatch chalets that each have their own en-suite shower and toilet are linked to one another by wooden walkways, which lead to the central lounge and dining area. Visitor's needs are attended to by a caretaker / cook who may assist with the preparation of meals and servicing of the lodge. A field ranger who, on request, will take visitors on walks in the bush during the early mornings and late afternoons. The services of both the field ranger and cook are included in the tariff.
Visitors must bring their own food for the meals they want and the drinks of their choice.
There is an open fire area and barbecue (braai) facility where guests may gather. Muntulu Bush Lodge only caters for one group at a time, up to a maximum of eight persons in the for accommodation rooms, so for the period of your stay it becomes your home in the wilds. Power is from solar charged batteries for lighting whilst the fridges and stove utilize gas.
Please note that this bush lodge is not fenced and wild animals may be encountered at any time, one should be aware of this, especially when moving about after dark. We suggest that you bring a torch for each room. Hyena in the evenings and monkeys scavenging during the day can be a nuisance. Do not feed any of the animals.
Note that all bush camps should only be accessed by 4 x 4, 4 x 2, SUV with high clearance.
IMPORTANT NOTICE : Muntulu Bush Lodge is closed until future notice.