Mpila Camp

Hluhluwe iMfolozi Game Reserve, KwaZulu-Natal, South Africa
Self catering Safari Tents & Chalets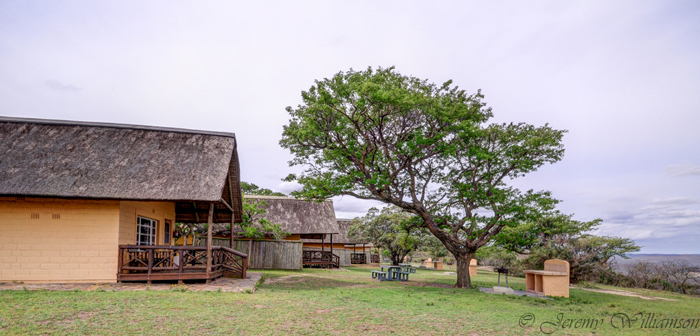 Mpila Camp is centrally situated in the uMfolozi section of the Hluhluwe iMfolozi Park, KwaZulu-Natal and commands views of the Wilderness area. The accommodation at Mpila Camp is all self catering and all accommodation units have bed linen, bath towels, cutlery, crockery and kitchen utensils provided. Unleaded petrol is normally available during the day (check their reserves early if you are low on fuel, as supply can be unreliable) curios, soft drinks and alcoholic drinks can be purchased from the Mpila Camp shop, but general provisions are limited. There is no restaurant at Mpila. The electrical 220 V supply is from a generator. This for the fans, lights and fridge whilst hot water shower and stove use gas. The generator is turned off at around 22h00.
The water at Mpila Camp is temporarily not fit for drinking. Please bring your own drinking water.
We are only a booking service to secure accommodation at a number of the Ezemvelo KZN Wildlife park accommodation venues. We are in no way responsible for the condition of the facilities, which due to severe budgetry cuts from our Provincial Government, has resulted in a lack of general maintenance over the years, with many of the accommodation facilities severely jeopardised and in need of urgent repair or closure.
The Park authorities are well aware of this inability to carry out basic necessary maintenance and are endevouring to source the necessary funds which to date have not become available. Far and Wild Safaris has no control over the allocation of units and their condition. Should you choose to visit these venues and subsequently find fault with the accommodation and or service, we are only able to forward your comments to the Park authorities. There is no compensation for this status quo should it not meet your expectation. Please contact ourselves should you require further clarification.

Mpila Camp is not fenced except for an electrified 'elephant' wire and wild animals may enter the camp and do, at any time, so one should be aware of this, do not walk about in the camp after dark. Hyena in the evenings and monkeys scavenging during the day can be a nuisance. Do not feed any of the animals!
We suggest that you bring torches.

Mpila Camp
Self catering in the Hluhluwe uMfolozi Park:
2 Bed Safari Tent accommodation: These large 2-bed walk-in safari tents have one bedroom, 2 single beds, clothes cupboard and electric fan with en suite bathroom - shower, toilet and hand-basin, then there is a deck and semi open kitchen with stove, fridge, basic utensils, crockery and cutlery, as well as a braai (barbeque) stand. Both the tent and the kitchen are on a raised wooden deck.


4 Bed Safari Tent accommodation: These 4-bed safari tent accommodation units are made up of two of the 2-bed safari tents, as described above, these are then linked to one another with the deck and kitchen between the two. They each have one bedroom, each with own en suite shower, toilet and wash hand-basin, 2 single beds, cupboard, fan. A 5th bed can be accommodated. The kitchen has gas stove and fridge with basic utensils, cutlery and crockery supplied. There is a braai (barbeque) stand. The tent, deck, dining and kitchen are all on a raised wooden deck.


2 Bed Chalet accommodation: These newly renovated two bed chalets each have a bedroom with 2 single beds, a separate shower, toilet and hand-basin en suite, with own kitchen and covered veranda, as well as a braai (barbeque) stand.


5 Bed Chalet accommodation: The 5-bed chalets have two bedrooms, one with two beds and the second bedroom with three single beds, one bathroom with shower, bath, toilet and hand basin, a kitchen, lounge dining room, veranda and outside braai (barbecue) stand.


7 Bed Cottage accommodation: The 7-bed cottages at Mpila camp have three bedrooms, two with two single beds and the third with three beds. There is an open plan lounge dining room, a kitchen, one bathroom with bath, hand-basin and toilet then a separate shower and a separate toilet. The veranda has an outside braai (barbecue).
2 Bed Safari Tent -
Mpila Camp, Hluhluwe iMfolozi


4 Bed Safari Tent -

Mpila Camp, Hluhluwe iMfolozi
2 Bed Chalet -

Mpila Camp, Hluhluwe iMfolozi


5 Bed Chalet -

Mpila Camp, Hluhluwe iMfolozi



7 Bed Cottage -

Mpila Camp, Hluhluwe iMfolozi

Around Mpila Camp and Hluhluwe iMfolozi Game Park